#220: "Tilting At Windmills"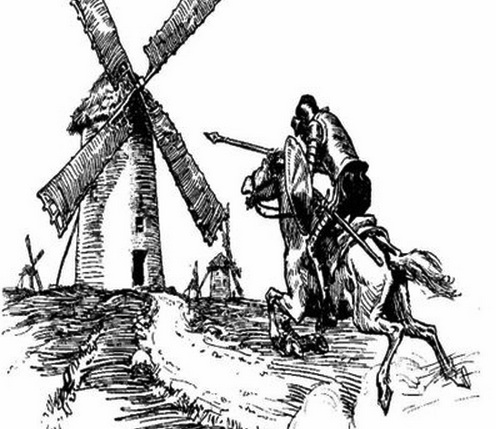 "Time ripens all things. No man is born wise."
This week marks the completion of my seventh year playing poker for a living. It has been a complex, swingy and circuitous journey – a coward's odyssey through a landscape of quixotic dreamers.
When I started off, I was gambling more than I ever have since. I had about €2000 to my name and only a basic knowledge of how to beat the game. I grinded $11 and $26 45-mans and truth be told, I ran well at them over that first meaningful sample. My 'roll', as it were (this was before I would have even used such terms) did not grow over the first 6 months but, more importantly, it did not diminish. Sure, I had only won a mere $10,000 from poker but the way I saw it then, it felt more like 'Heck, I've managed to win $10,000 from poker!'.
It was early 2008 and everyone was talking about the poker boom being over. While it certainly felt as though I had arrived late to the party, I had developed a love for the game that meant I was going nowhere. Armed with books like 'Power Poker', 'Harrington on Hold'em', 'The Full Tilt Strategy Guide' and later on 'Winning Poker Tournaments One Hand At a Time' and a poker posse that included Nick 'rounder63′ Carrillo and Patrick 'Dr Fill Good' McAllister, I was determined to improve, to increase my ROI and to play more tables simultaneously.
Fast forward to September 2009 and I was heads-up for €100,000 at the Full Tilt Espana Series Barcelona. I had won my buy-in online for $26 and I was guaranteed €60,000. I had 55% of the chips and I refused an ICM deal with my opponent, pushing instead for a deal where he got €69K, I got €81K and we played on for €10K. He played hardball at first but ultimately succumbed to my brazen offer. In that moment, I locked up a deal that more than quintupled my bankroll. Having small-balled my opponent down to a 4-1 deficit on three occasions, he won each all-in flip and then held AK to my AQ when we were back level. No extra €10K but that cash boost to my roll allowed me to play bigger stakes in 2010 and book my biggest ever online year.
From there, it should have been plain sailing but a break-up, a 5000km move back to Dublin from the US and a downswing killed off my interest in the game. Full Tilt had offered me my friend Michael Craig's old job as the site's Blog-writer (essentially a gig that would have paid me handsomely to write the blog I was writing anyway) but then that fell through after Black Friday. For the rest of the year, I dabbled with short (and not very profitable) SNG sessions while developing a TV Series with my friend Ray Kane. It was a necessary break from the full time grind but it is fair to say that my game had lapsed considerably.
In 2012, I reluctantly returned to poker full time. Encouraged by Dara O'Kearney who in no small way helped to rebuild my confidence (sometimes you lose perspective to the point that you need to be reminded that you are good at something you are good at), I started off in low-stakes but very quickly moved up, settling into my old schedule by April – a 24-tabling grind of mid-stakes. My bankroll had been substantially depleted throughout my hiatus but a 6-figure year helped put me back on track.
My new poker posse was steadily growing in numbers as Dara, Daragh Davey, Jason Tompkins and I enjoyed consistent success, as did many of those staked under The Firm umbrella. Championing the less glamorous aspects of the poker grind – good game selection, strict Kelly Criterion observance and rigorous hand analysis work off the tables – we have always had a 'take care of the pennies and let the pounds look after themselves' mentality. Over the years since, a number of marquee results have come our way but our focus has always been more on the reliable, bread 'n' butter games that keep the wolf from the door.
So with that in mind, here is the best piece of advice I can give, the Lao Tzu Pearl of my seven years: Choose your battles. By that I mean, don't fight against imaginary adversaries, who, in a poker context, are actually your individual opponents or rivals. It sounds weird but it's true. An individual opponent is not your enemy. He is merely an obstacle over which you leap, around which you circumvent or into which you may crash. The game itself is the enemy. Variance is the enemy. The human compulsion to chase losses is the enemy. Cognitive biases are the enemy. Rash decisions made whilst steaming are the enemy. Losing your bottle is the enemy.
So spend some time figuring out how to better your table-mates but spend more time managing yourself as a player. Spend more time calculating the appropriate amount of your bankroll to risk. Spend more time figuring out the standard deviations that will help turn the phrase 'this always happens to me' into 'this is something which is supposed to happen'. Overcome the inner demons that make you play recklessly until they make you play scared. For they are the real giants which you must fight. They are the battles you must choose. Otherwise, you are just tilting at windmills.