#247: "A Prosperous Denouement"
"You're sure you have a passport?"
Some people have a guilty face. I think I have a guilty voice. The man on the other end of the phone was suspicious and I started talking a little too quickly, like somebody under suspicion.
"I'm sure."
"And it is a real passport?"
"Yes, it was issued by the Irish Embassy here in Bucharest. I can take a picture of it and email it to you."
"That won't be necessary."
"It is real. I promise. They made it with a machine."
"A machine?"
"A passport-maker."
"So not a 'machine' then?"
"Well, that's what the ambassador called it. A passport-maker? A passport-making machine? I don't know. I never saw it."
The interrogation continued for a few minutes as I rabbited on, assuring the man from Turkish Airlines that my passport was legit. By the end, I'm not sure if he believed me but he said he was satisfied and I was going to find out a few hours later when I tried to fly out. I had also learned the valuable lesson of not tweeting anything incriminating, even in jest, right before booking a flight. It was 6pm and I had 9 hours to kill before going back to the airport so I found myself an all-night café with good internet and loaded up some MTTs.
By 1am, I was wired and on my seventh double-espresso, a couple of grand richer thanks to some satellite binks and still grinding seven tables. By 2am, I was down to two, both final tables. By 3am, it was time to leave but I had the chip lead with 4 left in my final game. I tossed the game to my phone and went out to hail a taxi. We were 3-handed by the time I got to the airport and heads-up by the time I got to passport control. Normally not one to deal, I was angling hard for a chop but my opponent was not an English-speaker so communicating this was difficult.
Surprisingly, my interaction with the passport officer went smoothly. Glancing occasionally downward to my phone, I explained everything, showed him my passport and letter and, with a smile, he ushered me through. A wave of relief washed over me as I walked to my gate, gleefully clicking buttons as I went.
As you can imagine, it was not a tippy-tappy heads-up encounter. I had twenty minutes until boarding so I took the view that variance was my friend. The chips went back and forth. I had a 3:1 lead, then he did, then I did again. I hung back as the plane began to board, light shoves, even lighter re-shoves but the cards and my opponent were not co-operating. Eventually, I had go through the gate, missing a couple of hands as my phone momentarily became my boarding pass rather than my poker conduit.
The stacks were short and roughly level as I took my seat on the plane by which time I had no choice but to shove every hand. Finally my opponent found a decent ace and snapped me and off and fortunately I was live with a bag of spanners. As the flop came down, the air-hostess nudged me on the shoulder, signaling me to turn off my phone. I apologised and looked down to see the turn. His ace-high was winning and even though this pot would only get him level again, victory would be his as I wasn't willing to risk the headline: 'Plane goes down in Bucharest today after selfish Irish poker pro puts winning a €20 rebuy over the safety of his fellow passengers.' Hovering over my phone's 'Off' switch, I watched the river – the beautiful 3 of diamonds, giving my 93 suited an unlikely victory. "Easy game!", I thought to myself as we left terra firma.
My layover in Istanbul was short but it did require me to go through another passport check. Handing over my passport, I figured my optimal line was to say little and be breezily insouciant. The officer saw right through this façade though, furrowing his brow as he rifled through the anaemic 1-ply pages of my homespun, cracker-barrel offering. I spoke up.
"It's an emergency passport."
Using only the tips of his thumb and index finger, he pinched the centre page of my passport by its corner. Holding it away from himself, he shook it disdainfully like it was a jizzy sock he had just taken out of my laundry basket.
"Eh, you think?"
I didn't know if he was being serious. Finally, he cracked a smile and I laughed.
"It's no problem. Have a nice flight."
Just three short hours later, I was in my living room in Malta, telling Saron all about my escapades. She could hardly believe it, convinced that it was going to take me at least a week to get home. Dara and Mireille arrived a few hours later and, knowing what happened, they were equally surprised to see me. We all went out for dinner and the next day, I played the Unibet Open.
About one week later, I opened my email to discover a letter from the ambassador's assistant Nicoleta. She had taken the initiative and submitted my application for a proper passport. It was waiting for me in the Irish Embassy in Malta (actually a room within the British embassy) and could be collected at any time. Naturally, Saron told me to go there immediately but I stubbornly insisted it would keep. After all, my emergency one was perfectly fine and valid for eleven months.
Since then, after every trip, Saron has told me to go get the new one and each time I have made one of the following excuses:
1: "I've already inputted by passport details for my next flight."
2: "The embassy is a twenty minute walk away and it's up a bit of a hill."
The truth is I think I've gotten attached to back-room bootleg passport and to be fair, it has got me to Croatia, Italy, Morocco, Ireland, England, Germany, Austria and the Czech Republic in the last six months, never getting more than a cursory glance. So last week, I brought it with me to Bucharest, back to its spiritual home for the Unibet Open.
It was a record-breaking event for a tour and a site that has big ambitions. Last year, Unibet made the brave decision to be on a stand-alone client. A fortnight ago, they launched a brand new user-interface with features and options to rival the best out there. In the new year, they will be expanding the number of territories in which they operate (including my homeland of Ireland). While other operators take backward steps, reducing the number and quality of their stops, Unibet are choosing a different path. David Pomroy and his team are building something, investing in the game and it's players, improving the experience on both the live and virtual felt.
The day after the event, I tweeted the following…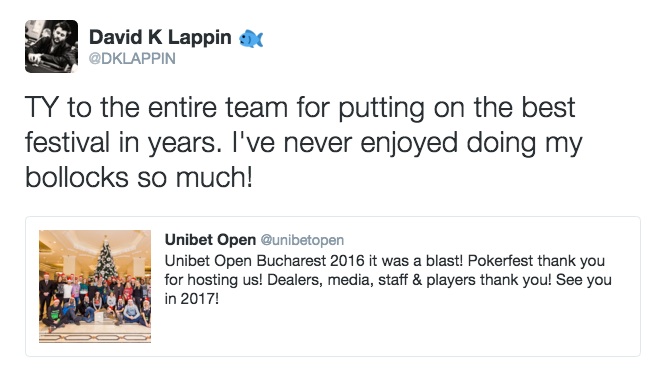 …and I meant every word. Of course, poker is my job and I'm always trying to win but it's not the be-all and end-all. I'm not and have never been one of the game's elite, playing Super Highrollers and nosebleed cash games. I am extremely fortunate to be making a good living doing something that for most people is a pastime and the greatest perk of that is the traveling. I visit fabulous cities and mingle with the smorgasbord of humanity that is the poker community. I chat to my table-mates, put a face to the forum avatar or Twitter profile, consolidate virtual friendships in the real world and, most of all, spend time with people while they are having fun.
And boy did we have fun in Bucharest. First of all, with Unibet, a package really is a package. The hotel was the five-star Marriott with beautifully furnished rooms and a big bath tub that my girlfriend particularly enjoyed. I ate half my own body weight each morning at the high-quality breakfast buffet, attempted to do the same each evening at the dinner buffet and the drinks were flowing at the different player parties that seemed to be every other night. I hung out with my good friends Dara O'Kearney, Mireille O'Kearney, Ian Simpson, Marc Convey, Rob King and the Unibet Ladies Battle Royale Champion Daiva Barauskaite and I made new friends in the inimitable Kat Arnsby, the charming David Vanderheyden and Unibet community hero William Hens.
I bricked the Main, the Highroller and a couple of sides but enjoyed my time at the tables and appreciated the high calibre of floor staff, helmed by Nick O'Hara, the finest TD in the business, and Luca Vivaldi, the TD most likely to forgive the string bet if you are a celebrity. I also got to spend some time in the Commentary Box, riffing with 'The Conv' and 'Doke' and then later just Doke after Marc skilfully gave us the slip. It was especially fun to analyse the hyper-aggressive play of twitch-streaming cash game crusher Espen Uhlen, the epic spin-up of William Hens and the masterful small-ball navigational skills of eventual winner Traian Boston who scooped a whopping €100,000!
I was sad to leave but leave I had to late on the Sunday evening. Unibet had spoiled us all rotten but as Saron and I walked through the airport, fondly reminiscing about the trip, an altogether different memory was about to resurface. In the exact same place, at the exact same booth, the exact same passport officer who had stopped me from flying on my American Visa six months ago was none too impressed with my documentation. He questioned me before leaving the booth to confer with his colleague. On the far side of passport control, Saron stood in judgment, hands on her hips, muttering 'I told you so'. When he came back, he asked for other forms of ID and all I could offer him was my Unibet Live Card. This was a problem and he told me to wait while he got his supervisor.
I could tell Saron was upset and in retrospect, my attempts to lighten the mood by pretending to be handcuffed were a mistake. She was envisioning herself having to leave me behind again. I insisted that it would be fine and sure enough, just moments later, an older gentleman emerged from his office, took one look at my passport and declared it to be exactly like the ones that were made in the 90s. He sent me on my way and I rejoined Saron who was relieved but still none too pleased. As we walked towards our boarding gate, I broke the silence.
"You know – if you ever caused us this much trouble, I'd forgive you."
"That's stupid because we both know I wouldn't."
"I know. But I'm just saying if you ever did…"
"So what are you going to do as soon as we get back to Malta?"
"I'm going to collect my proper passport of course."
"Uh huh."
Taking our seats beside the boarding gate, I cleared my throat and summoned my inner-Bard:
"As you from crimes would pardon'd be, let your indulgence set me free."
Utterly unimpressed, Saron stared right through me, shaking her head.
"Gobshite!"