#248: "A Rose By Any Other Name"
"What is in a name?…", asked Juliet, "…a rose by any other name would smell as sweet."
PokerStars have rebranded their live events. The EPT and regional tours are no more and in their stead in 2017 will be a pair of global tours – Championships for the €5K circuit and Festivals for the €1Kers. First up in January will be the PokerStars Championship Bahamas (formerly PCA) and the Pokerstars Festival London and it will be interesting to see what the numbers are like. PokerStars are coming off the back of a poorly planned and poorly run festival in Prague and with the shit-show of Barcelona still fresh in player's memories.
"No time to grieve for roses when the forests are burning."
I will not be attending either. While The Bahamas Championship is on, I will be supporting a small operator who is putting on a live festival in Malta (To be fair, I have never played the PCA) and while the London Festival takes place, I will be at the MPN Vienna. It's not that I am boycotting PokerStars (I know many players who are and, of course, that is their prerogative) but I have now decided to support the emerging tours when possible. I'm sure I'll find myself at one or two PokerStars Festivals or Championships in 2017 but I used to attend 12-15 of their events every year.
Three months ago, I made a similar decision about online. I still play on Pokerstars but it now represents just 25% of my volume. The site is undoubtedly in decline and they are managing decline by squeezing their poker customers and shrinking the pool, whilst pushing that player base towards BetStars and StarsCasino. I'm guessing The Sunday Million will probably get scrapped next year or possibly renamed 'The Sunday Bukkake' because rebranding seems to be their answer to everything and 'The Sunday Eight-Hundred-Thousandy' doesn't have a great ring to it.
"It is the time you have wasted for your rose that makes your rose so important."
I was loyal to PokerStars for 8 years because I believed that my custom was appreciated as did other Supernova regulars and a traveling community of players whose numbers grew consistently. But for two years now, I feel like a dog whose been beaten but still sits, fetches and rolls over in the hope of getting thrown a bone. Prague was the last straw though; 10-handed tables in a half-empty room, constantly malfunctioning clocks, delayed start-times, having your 30 minute clock arbitrarily cut in half after you've taken your seat, 20% payouts, 'refunds of shame' in some events and just one non-turbo open Hold'em event for less than €1100. A dog can only take so much.
On Thursday night, I was sitting elbow-to-elbow with my table-mates, the back of my chair hitting the back of the chair of the player on the table behind me when an inexperienced dealer, one of many making their EPT debut, made a bad ruling. Now these things happen and are of course forgivable. What isn't is what followed. The TD was called and the dealer openly defied his reversal of her ruling. Not only that but after he left, she loudly scolded the elderly recreational player who was at the centre of it all. As he tried to apologise for his bad English causing the initial confusion, she snapped at him: "Well that's not my problem, is it?" Some players spoke up on behalf of the elderly man, then other players spoke up against those who had spoken up. It was a horrible atmosphere. After that, everybody was grumpy with each other and I put my headphones on, played some music and took refuge in the always safe-space of Twitter. Scrolling, I came across this tweet by Liv Boeree:

I couldn't help myself:

"He who dares not grasp the thorn should never crave the rose."
Throughout the festival, I tweeted each time something went wrong and by the last Friday, the tip of my right index finger had a blister. I also complained by email and spoke personally with several TDs, including a long chat with Thomas Lamatsch and Luca Vivaldi during the break of the tournament with the mis-labelled structure. They acknowledged the persistent clock issues and apologised, blaming a typo for the falsely advertised structure. They defended the 10max tourneys, saying that all live operators do 10-handed on tournaments with a buy-in €330 or lower. This is patently untrue and I told them so but they seemed more interested in getting me to name the source of my knowledge that they had sent staff home. They asked me not to repeatedly tweet problems that I was observing or issues I was having. I told them I had the right to tweet whatever I wanted and that I welcomed their right to reply.
I would like to state that while we were mostly in disagreement, my conversation with Thomas and Luca was carried out in a professional and cordial manner. I recognise the difficulty of their jobs and assume that many of the unpopular decisions were made above their heads on things that they, as employees, must implement. As my colourful tweet read: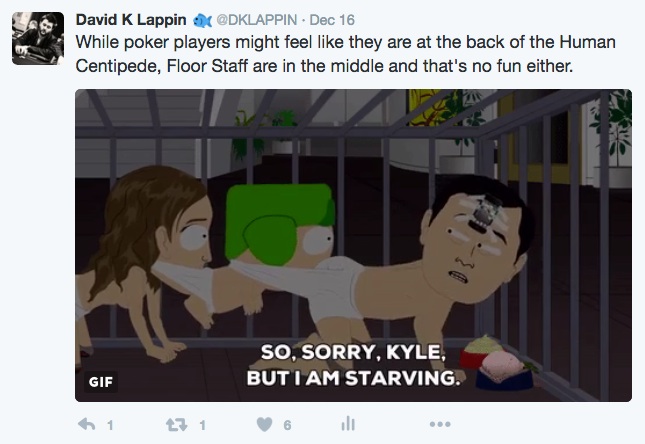 "It takes a loyal gardener to tend roses."
The sad reality is that players, pro and recreational alike, are not valued anymore. Every decision, however it is spun, benefits Amaya's short-term bottom line. A senior member of PokerStars Staff told me that packing the festival with 100 tournaments was not about breaking records to impress the bosses but rather giving the players the 10-handed turbos and hypers that they want. Gimme a break! The same person even had the audacity to say that putting on extra one-day €25K Highrollers was them responding to the needs of the players. Nothing to do with the €15-20K in rake taken for a tiny corner of the room then?
It's also important to point out that the changes to PokerStars Live Events in 2017 are not just cosmetic. The Championships and Festivals reveal a top-down mentality rather than bottom-up. Regional tours successfully nurtured the grassroots of the game in each territory and above them was a European tour to which to graduate. There will be plenty of gaps in the schedules all across Europe in 2017 so it is up to the other operators now to swoop in to these markets and give the players what they want. Last month, MPN put on a great festival in Mazagan and just two weeks ago, Unibet showed exactly how it should be done, breaking records in Bucharest. I hope that is a positive sign of things to come.
At the risk of stretching my flowery metaphor to within an inch of it's life, it's time for players to wake up and smell the roses and recognise that in 2017, the sweeter ones might be in a different garden.