#256: "Brighton Beach Memoir"
Last Saturday, I was sitting at the table in the Rendezvous casino, having just enjoyed a lovely sunset walk along Brighton's beautiful beach. Playing 1B of what turned out to be a record-breaking stop of the Unibet Poker UK Tour, I felt compelled to post the following tweet:

A softball tweet if ever there was one, the likes and retweets tumbled in, (Dara O'Kearney and I joked about how my next tweet should be 'Racism is bad' or 'I hate Nazis') but it was genuinely something that I had not seen before in eleven years of playing poker. Looking around the room, there were two or three ladies on every table – testament I think to the friendly atmosphere created by Unibet Poker at their events and the hard work of Daiva Byrne whose Ladies at Unibet Poker Group has been growing every day as have the numbers attending her Sunday Night Ladies Freeroll. In fact, the previous Brighton UK Tour event last march produced a final table with 3 ladies; Charlie Godwin (8th), Deborah Worley-Roberts (3rd) and Renata Jack (2nd).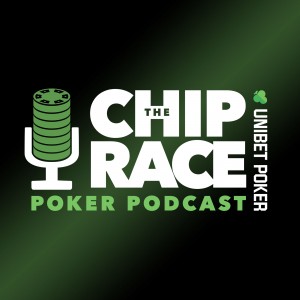 This week, as I posted old Chip Race interviews to our new YouTube page, I was full of nostalgia, reminded of how six of our most treasured interviews are those with Jennifer Tilly, Kara Scott, Kat Arnsby, Daiva Byrne, Rebecca McAdam and Irish legend Annette O'Carroll. I know it sounds like I'm throwing another softball into the ether here but it's true and anyway, that sentiment also comes from a selfish place. Last Saturday was the most fun I've had playing live in a long time and I think the dynamic at the table benefits hugely from a mix of men and women. I battled with Kelly Saxby who made a couple of sick (and correct) lay-downs against me. I got pwned by Palm Beach Poker Manager Charlotte Eaton who used direct position to out-manoeuvre me in every hand we played. I won chips, I lost chips but more importantly the drinks were flowing, the craic was mighty and the table-talk was lively, good-natured and rude, not least in this hilarious interaction I had with the rambunctious Kerry-Jane Craigie.

"Nice stack." "Thanks. I've managed to hit a few rivers." "I heard that they rig the deck for the ambassadors." "Yeah, I have a button down here that I press if I need the deck to bail me out." "I have a button down here too."  

Kelly actually blushed and I laughed so hard, I almost did a spit-take.